Proflora™
Prebiotic and probiotic synergy to rebalance the whole intestinal flora
by GUNA
Apart from its primary function of nutrient absorption, the intestinal mucosa also has an important immune function. This is secondary to antigenic stress induced by food intake (with its microbial load) and by the presence of a varied flora of resident microorganisms (microbiota) which are transient or adhere to the intestinal walls. It is estimated that about 98% of the population has dysbiosis (i.e., a depletion of beneficial microbial species), which leads to various types of bowel dysfunction that may have a negative impact on health.
Proflora™ is an innovative synbiotic consisting of six micro-encapsulated probiotic strains associated with prebiotic fibre, for the natural rebalancing of the ecosystem of different parts of the intestine.

Composition and technical specifications
Proflora™ contains six exclusive, selected probiotic strains (over 2 billion /sachet) with prebiotic fibre FOS (short-chain fructo-oligosaccharides) derived from sugar beet. The probiotic strains (registered in an international culture collection) are in a gastro-protected micro-encapsulated form for maximum probiotic biological activity. It has been reported in vivo that the colonization kinetics of 1×109/CFU of probiotics in a gastro-protected micro-encapsulated form is comparable to that of 5×109/CFU of non-micro-encapsulated probiotics [1, 2].
Proflora™ is allergen free (according to Commission Directive 2007/68/EC), odourless and tasteless. Tables 1 and 2 show the ingredients and the nutritional composition of Proflora.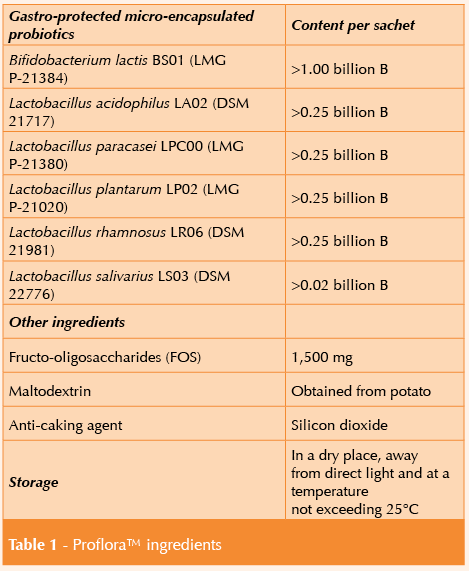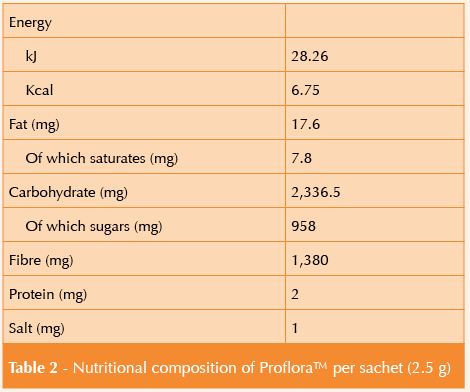 Mechanism of action
Lactobacillus rhamnosus LR06 and Lactobacillus plantarum LP02 are both able to produce active substances (bacterio cins) that limit the spread of coliform bacteria in various intestinal segments [3], which is the reason why Proflora™ is particularly recommended for patients with frequent episodes of infections of the genitourinary tract due to Escherichia coli. Each of the six microbial species, belonging to the genera Bifidobacterium and Lactobacillus, are gastro-protected and act in synergy for higher efficacy and colonization of the different intestinal segments. The effect is maintained over time because of the strong ability of Lactobacillus salivarius LS03 to adhere to the intestinal mucosa.
FOS in Proflora™ are not hydrolyzed by digestive enzymes or absorbed by the mucosa of the small intestine, and so reach the colon intact where they selectively stimulate the development of probiotic strains present in Proflora™ and beneficial lactobacilli and bifidobacteria in the resident microflora. The FOS positively affect carbohydrate and fat metabolism, improve the function of the intestinal mucosa by increasing the 'barrier' effect, and facilitate the absorption of certain minerals, especially calcium and magnesium.
Safety
Proflora™ is patented by Probiotical S.p.A. and is free of all allergens according to current legislation (Annex II Reg. EU 1169/2011): wheat, rye, barley, oats, spelt, kamut and hybridised strains, crustaceans and products based on shellfish, eggs and egg products, fish and seafood, peanuts, soy and soy products, milk and dairy including lactose, nuts, celery, mustard, sesame seeds, lupins, molluscs and products based on molluscs, and sulfur dioxide and sulphites at concentrations above 10 mg/kg or 10 mg/litre.
Proflora™ is recommended for children, the elderly, pregnant and breast-feeding women, and those with food intolerances, food allergies or coeliac disease.
Applications and dosage
Proflora™ can provide healthy support in case of antibiotic and/or laxative administration, diarrhoea, gastrointestinal disorders, digestive difficulties, irritable colon, uro-genital infections, respiratory allergies, adverse reactions to foods, abdominal bloating, meteorism, mental and physical stress and dry eye syndrome [4].
The suggested dosage is one sachet daily (preferably half an hour before meals) for 30 consecutive days. In cases of acute symptoms, one or two sachets should be taken each day for 8–10 days depending on symptoms.
References
1.DelPiano M, CarmagnolaS, Andorno S, Pagliarulo M, Tari R, Mogna L, Strozzi GP, Sforza F, Capurso L (2010) Evaluation of the intestinal colonization by microencapsulated probiotic bacteria in comparison with the same uncoated strains. J Clin Gastroenterol 44:S42–46
2. Del Piano M, Carmagnola S, Ballarè M, Balzarini M, Montino F, Pagliarulo M, Anderloni A, Orsello M, Tari R, Sforza F, Mogna L, Mogna G (2012) Comparison of the kinetics of intestinal colonization by associating 5 probiotic bacteria assumed either in a microencapsulated or in a traditional, uncoated form. J Clin Gastroenterol 46:S85–92
3. Bottazzi V (2009) Il microbiota intestinale. Novara, Mofin Alce Group
4. Chisari G, Chisari EM, Greco C, Madeddu R, Motta M, Chisari CG (2016) Coadministration of Lactobacillus and Bifidobacterium strains in combination with short-chain fructo-oligosaccharides reduces the ocular surface damage caused by dry eye syndrome. Minerva Oftalmol 58(2) 31-38